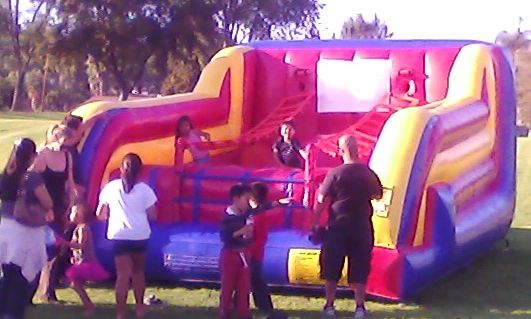 JACOBS LADDER
= $225 DAILY RATE(4-6 HRS)
TWO OPPONENTS TRY TO CROSS ON THE WIGGLY LADDERS FIRST WITHOUT FALLING OFF.UNIT CAN BE USED WET OR DRY AND GREAT FOR ALL AGES!!
CLEARANCE IS 25L X 20W X 10H
VELCRO STICKY WALL = DAILY RATE $185
PEOPLE JUST LOVE TO RUN, JUMP, AND FLY ON THE STICK ON THE WALL WEARING THE VELCRO SUITS(VARIOUS SIZES AVAILABLE)
CLEARANCE IS 25L X 20W X 20H
SUMO WRESTLING SUITS = DAILY RATE $190
TWO OPPONENTS SQUARE OFF IN THE ARENA-INCLUDES SUITS, SUMO HAIR HELMETS, MITTENS AND MAT. BIG LAUGHS!!
(15X15)

BATTLE JOUST = DAILY RATE $180
TWO OPPONENTS BATTLE WITH JOUST POLES TRYING KNOCK EACH OTHER OFF PEDESTALS UNTIL THE LAST PERSON STANDING!!